Maple syrup producers across the Midwest have noticed changes in their sugarbushes in recent years, such as earlier tapping seasons and the arrival of new invasive and competing plant species and forest pests. We expect these and other changes to continue in the coming decades. By being flexible and adaptable, you can be a good steward of the land, ensuring that your sugarbush thrives for many years into the future.
This sugarbush adaptation guide provides descriptions of current and future environmental challenges along with concrete actions you can take to address them. The challenges are interrelated, so you'll likely want to focus on several of them together rather than considering each separately.
Think of this as a "menu" of choices. Whether you're just starting out or have decades of experience, whether you tap a handful of trees or thousands, you can adopt the strategies that make the most sense for your operation. The menu is not comprehensive—your firsthand knowledge of your sugarbush may give you additional adaptation ideas.
Click the (+) to expand each section. You can also download and print a PDF version of the menu.
---
Indigenous Wisdom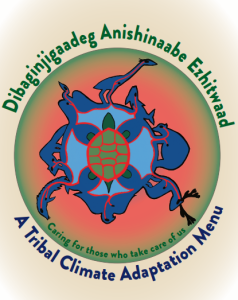 Many Indigenous communities in the Upper Midwest have engaged in sugarmaking since long before the arrival of Europeans. Tribal Nations here recognize plants and animals as teachers and have adapted proactively whenever environmental conditions have changed. Dibaginjigaadeg Anishinaabe Ezhitwaad: A Tribal Climate Adaptation Menu—a tool created by a diverse team of Tribal, intertribal, and non-tribal partners which uses Indigenous culture, language, history, and perspectives to guide climate adaptation for Tribal communities and their partner entities—contains adaptation strategies and approaches related to maple, many of which are similar to those found here.
---
Resources to Learn More
Sugarbush Management
Invasive Species
Climate Change Impacts and Adaptation
Soil Composition, Fertilization, and Earthworms
Moore, J.-D., Duchesne, L., Ouimet, R., & Deschênes, M.-L. (2020). Liming improves sap characteristics of sugar maple over the long term. Forest Ecology and Management, 464, 118044. https://doi.org/10.1016/j.foreco.2020.118044
West, R. R., Lada, R. R., & MacDonald, M. T. (2023). Nutrition and Related Factors Affecting Maple Tree Health and Sap Yield. American Journal of Plant Sciences, 14(2), Article 2. https://doi.org/10.4236/ajps.2023.142011
Bal, T. L., Storer, A. J., & Jurgensen, M. F. (2018). Evidence of damage from exotic invasive earthworm activity was highly correlated to sugar maple dieback in the Upper Great Lakes region. Biological Invasions, 20(1), 151–164. https://doi.org/10.1007/s10530-017-1523-0
---
This adaptation menu was researched, written, and designed by Scott Hershberger, an M.S. student in Life Sciences Communication and Project Assistant for the Maple Syrup Program. Funding was made possible by the USDA Agricultural Marketing Service (AMS) Acer Access and Development Grant AM21ACERWI1006. This document's contents are solely the responsibility of the authors and do not necessarily reflect the official views of the USDA.
Image credits:
Projected sugar maple habitat in 2100: U.S. Forest Service Climate Change Atlas
White-tailed deer: Perkons via Pixabay
Earthworm: Chih-Han Chang, Smithsonian Environmental Research Center, CC BY 2.0
Maple drought stress: Robert L. Anderson, U.S. Forest Service, CC BY 3.0 US
Common buckthorn: anemoneprojectors via Flickr, CC BY-SA 2.0
Spotted lanternfly: WanderingMogwai via Wikimedia Commons, CC BY-SA 4.0
Garlic mustard: sannse via Wikimedia Commons, CC BY-SA 3.0
Buckets on trees: University of Wisconsin–Madison Division of Extension
Last updated September 15, 2023.